Adventure through the Coffee Region
Greetings travelers, I'm Elliot, your Elite travel guide, remember me? For some time now I've been accompanying our Elite travelers on their adventures with useful tips and advice to get the most out of their travels.
This time I will accompany you to a charming
destination
, where you will find mountains, coffee plantations, parks, people and the delicious aroma of coffee in every corner.
Have you already found out which destination it is?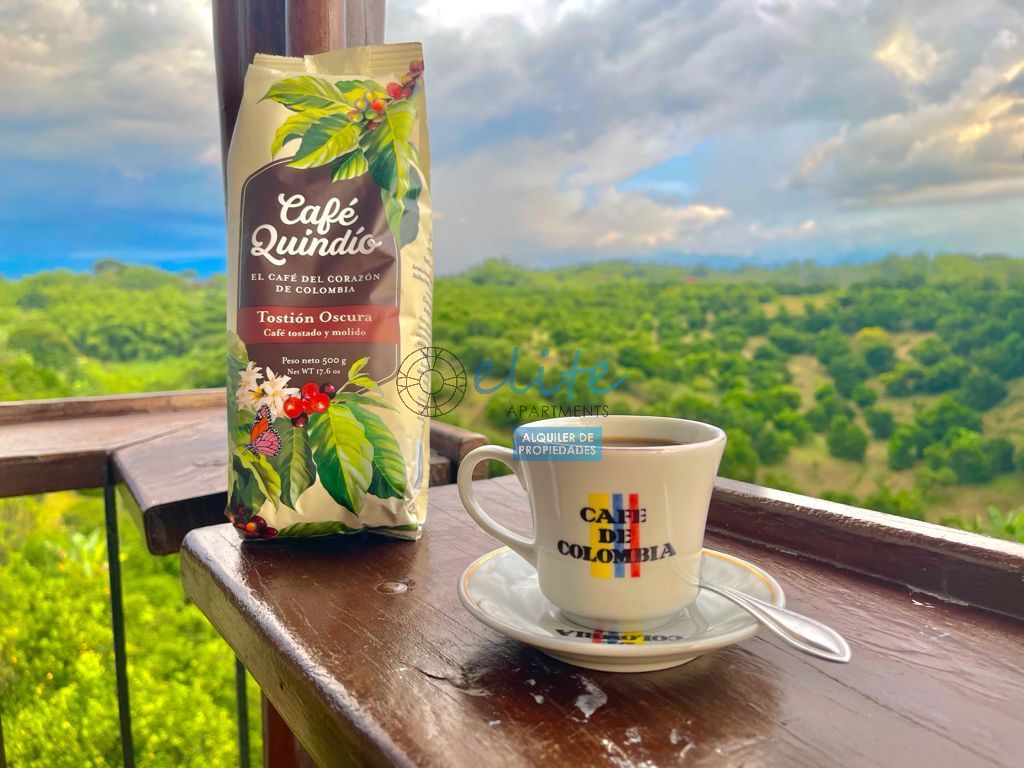 The Eje Cafetero is the second favorite tourist destination of our travelers. It has a variety of activities to do, places to visit, plans and attractions that make it desired by national and international tourists, and as expected, it can be a little difficult to decide where to start and make the most of the tour of the region.
To start, look for a place to stay and what better option than our vacation properties. Since 2020 we have had a presence in the coffee region of the country, we started with a series of farms for rent ideal for large groups and currently we have different options, including: cabins, apartments, glampings and many other farms around the coffee region.
Here you can learn about our lodging options:
Places to visit in the Coffee Triangle
Key fact: it is advisable to rent a car to move around the region.
This is perhaps the most difficult part of the trip, not knowing where to start. Among the places to visit in the Eje Cafetero I share with you a series of natural reserves and theme parks that are the most outstanding tourist attractions in the region and may be of interest to you. Among them: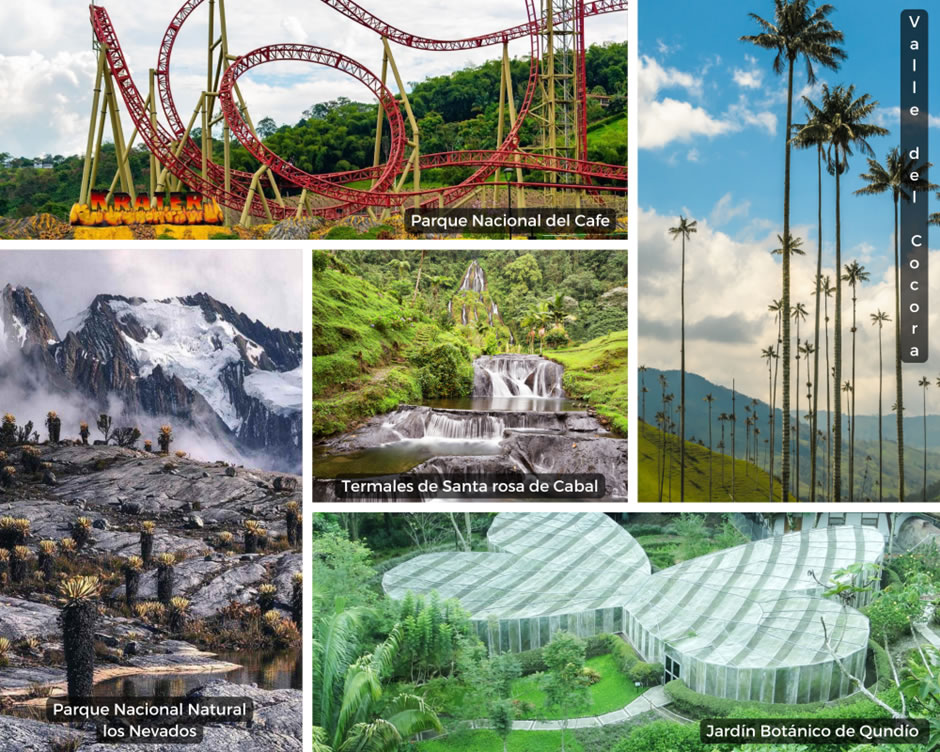 Coffee National Park
This theme park is dedicated to the history and culture of coffee in Colombia. You can enjoy guided tours through coffee plantations, mechanical attractions, and learn about the coffee production process from seed to cup.
Cocora Valley
Located in Salento, the Cocora Valley is famous for its imposing wax palms, Colombia's national tree. You can hike, horseback ride and enjoy breathtaking panoramic views.
Santa Rosa de Cabal Hot Springs
These natural hot springs offer a relaxing place to enjoy the mountain scenery. You can soak in the hot pools, sample the local food and explore the nearby waterfalls.
Quindío Botanical Garden
This botanical garden in Armenia is an excellent place to learn about the flora and fauna of the region. It offers a wide variety of plants and flowers, including many species of orchids, and butterfly gardens.
Coffee farms or estates
Many farms in the region offer tours and lodging, allowing visitors to immerse themselves in the life of a coffee plantation. You can learn about the cultivation and processing of coffee, enjoy tastings and appreciate the beauty of the landscapes.
Los Nevados National Natural Park
This park is ideal for nature and hiking lovers, with landscapes of moors, glaciers and volcanoes.
Activities not to be missed
Without a doubt, there are many things to do in the Eje Cafetero, but I have decided to share with you some of the most popular ones so that you can make the most of your time. From quiet to extreme activities, you decide how you want to enjoy your trip.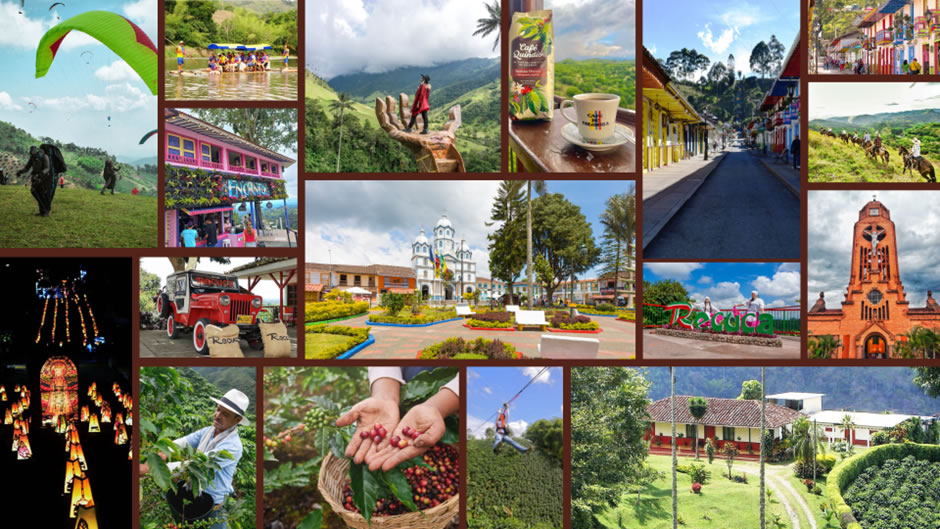 Visit the spectacular viewpoints in municipalities such as Filandia, Salento, Buenavista: La Casa Mirador de Encanto, Mano de Acaime and Salento viewpoint.
Recuca: is a park where you can venture on a tour of the coffee culture through the coffee plantations and live the experience as a coffee picker and learn about the history of the area.
Take a tour in the famous "Willys", the traditional transportation of the area.
Take a walk through the museums of Salento.
Paragliding: an activity to fly over the coffee cultural landscape in the municipality of Buenavista with certified pilots.
Horseback riding: Live an incredible experience on a 3-hour ride through a cattle ranch located in La Tebaida, Quindío.
La Vieja River Rafting Tour: a 5-hour rafting tour from Puerto Alejandría to Piedras de Moler on the tranquil La Vieja River.
Canopy: Enjoy an incredible cable flight of more than 1,900 meters through aerial trails, located 10 minutes from Armenia to admire from the air the entire coffee landscape.
See the illuminations of Quimbaya: a great show held on December 7 and 8 where, in addition to celebrating the day of the candles, the candles and lanterns contest is held every year.
Choose your lodging, plan your trip, pack your bags and you are ready to live a great coffee adventure in one of the most outstanding destinations in the country.
Contact us and we will help you enjoy this wonderful destination!