Apartments for rent in Palmetto Building Cartagena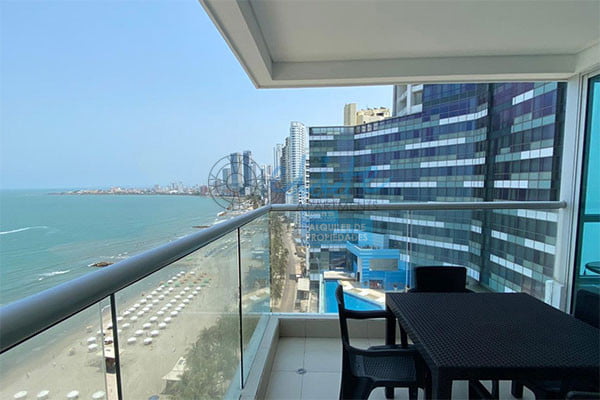 The city of Cartagena, a World Heritage Site, is located on the shores of the Caribbean Sea, its paradisiacal waters and colorful streets have made it a favorite destination for thousands of tourists and a venue for various events.
The capital of the department of Bolivar, adds to its charms an incredible nightlife, delicious gastronomy and unique landscapes… Without a doubt, it will be a memorable experience for you to go to Cartagena!
Whether for vacation or business travel, you will not regret a second, its beaches and archipelagos are ideal for a real change of routine in warm waters with a cool breeze.
If your next trip is to the walled city, this blog is for you. We will give you relevant information about renting apartments Palmetto building in Cartagena so you have an exclusive place to get to and about Boca Grande beach to make your stay more than pleasant, read on!
THE BEST VACATIONS AT ELITE APARTMENTS
The vacation rental you were looking for can be found here. We help you find the ideal property for your needs and those of your trip.
RENTAL APARTMENTS IN PALMETTO BUILDING IN CARTAGENA
If you go on a trip to this beautiful city you should take into consideration where to stay because there are apartments in Cartagena for days that do not provide all the necessary amenities for your stay to be 100% quiet.
This is why Élite Apartments has a wide range of apartments for rent in the Palmetto Building in Cartagena. These exclusive properties are located just 1 minute walk from the beach, yes! As you are reading, they have direct access to the sea, where you can also enjoy a spectacular view.
They have a privileged location, they are less than 1 kilometer away from shopping centers so you can relax with your family or travel companions.
Our luxury apartments in Cartagena are fully adapted to your requirements. Spacious balcony with a beautiful panoramic view of the entire city, porcelain tiled bathrooms, comfortable bedrooms, living room with dining area, free Wi-Fi, maid service and much more.
The apartment rental in the Palmetto building in Cartagena, has a swimming pool for you to relax and a bar for you to enjoy the best drinks in the area. The excellent reputation of the Palmetto building makes it one of the best accommodations due to its quality – price ratio.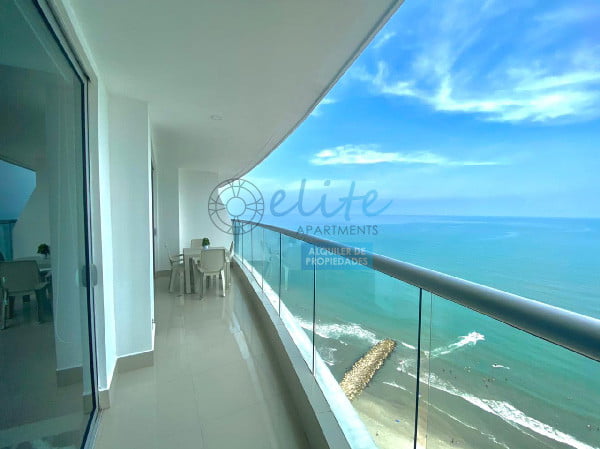 BOCAGRANDE BEACH JUST 1 MINUTE FROM PALMETTO
Boca Grande beach is located south of the Historic Center of Cartagena, is known for its beaches, which are the most popular with tourists. Its golden sand leads the way to the walled city and the exclusive hotels that surround it.
During April and November are the months that you will find more calm in the sea of Boca Grande. In this sense, you should not worry about the temperature in Cartagena de Indias because its tropical climate will let you enjoy the beaches at all times with total fullness, the average throughout the year is 27°C.
The locals will make you understand the Cartagena culture and put at your disposal all the gastronomic services, handicrafts and traditional dances for you to enjoy an unforgettable moment. Generally, the beach is open from 08:00 am to 06:00 pm of the day.
In Boca Grande you will find water sports like windsurfing and hobie cat, live music, sun tents and delicious food, without a doubt it is one of the best beaches in Latin America. And you know what is the best thing? Owning an apartment rental in the Palmetto building in Cartagena you will be just seconds away from them, without having to spend money to get there.
Spending the whole day at this beach will be an unparalleled experience, not to mention the majestic sunset you will observe when night falls. When you go to Cartagena the only thing you should bring besides a bathing suit is the desire to experience new adventures.
In Élite Apartaments we want to create a community of travelers who choose us as their main option for their stay in Cartagena, our wide portfolio for the rental of apartments in the Palmetto building in Cartagena allows us to provide you with the best quality for your accommodation to be the best.
Contact us now to provide you with personalized advice from start to finish, a luxury apartment in Cartagena is waiting for you, the time to live the best experience with quality service at the best price is now.