Luxury apartments? Stay in the best premium apartments in Cartagena.
Tourists and travelers have become more and more demanding when booking a vacation property, are you one of them?
They are looking for a pleasant place that meets all their expectations and has high quality standards to spend a comfortable stay in every way.
And it sounds logical, during a vacation or business trip, the only concern should be to enjoy the destination discovering new places, making plans and activities offered by the environment, trying new dishes and foods, and living the experience to the fullest.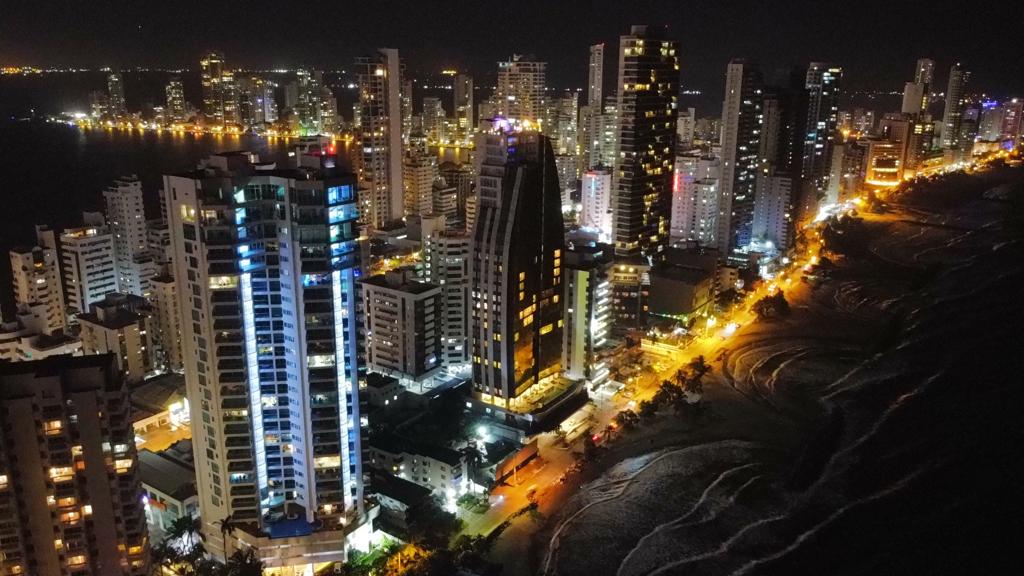 Hi, it's me again, Elliot, your travel guide. And this time I want to show you the best luxury vacation apartments in Colombia, located in Bocagrande, one of the most sought after areas in the city of Cartagena.
These apartments for rent in Cartagena are the new concept of vacation rentals for daily rentals. They are the first apartments in the city unique for its futuristic and technological style, every detail was designed with authenticity: high-end accessories, home automation, custom furniture, interior design and art, private entertainment and relaxation areas, among other amenities.
If you are a traveler with high expectations and you are looking for an exclusive apartment for a business trip or to live a totally different vacation, our premium line apartments are perfect for you.
In our premium line you will not only have luxury accommodations, but also a variety of exclusive services.
Being part of our premium line means having access to alliances in which you will enjoy benefits that will make your trip extraordinary.
Our alliances include access to fine dining restaurants, shuttle service from the airport to the lodging and luxury flights, extreme activities and private tours in emblematic places of the city, and tours in luxury yachts.
Learn more about these alliances here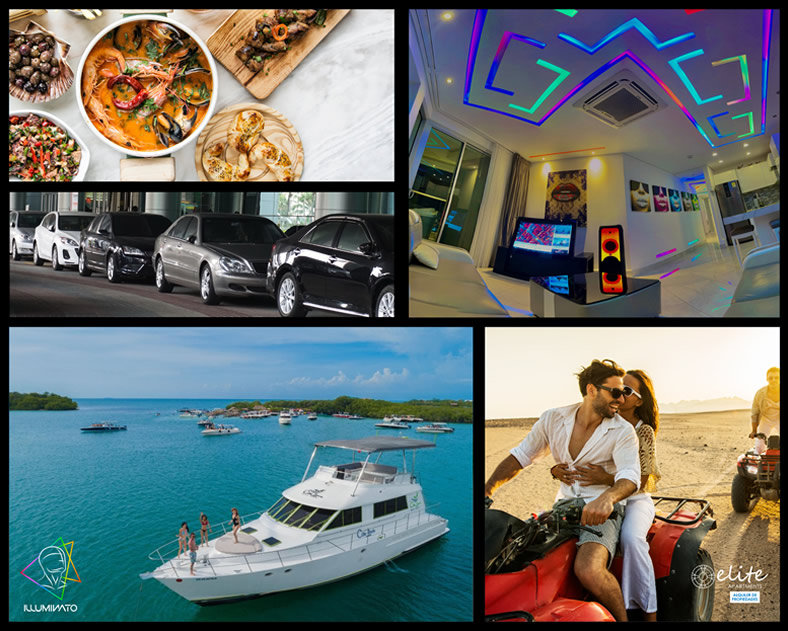 What can you do in the premium apartments?
You can enjoy the private entertainment and relaxation areas of the property, such as Jacuzzis, Pole dance area, tablet tables, smart mirrors, audio system.
Enjoy spacious and modern spaces with personalized and comfortable furnishings.
Enjoy an incredible ocean view, sunsets and pleasant weather.
Have everything you need for a night out without having to leave the place or overspend.
Are you anxious to meet them? Here we present them to you:
Apartment 2704 Palmetto Beach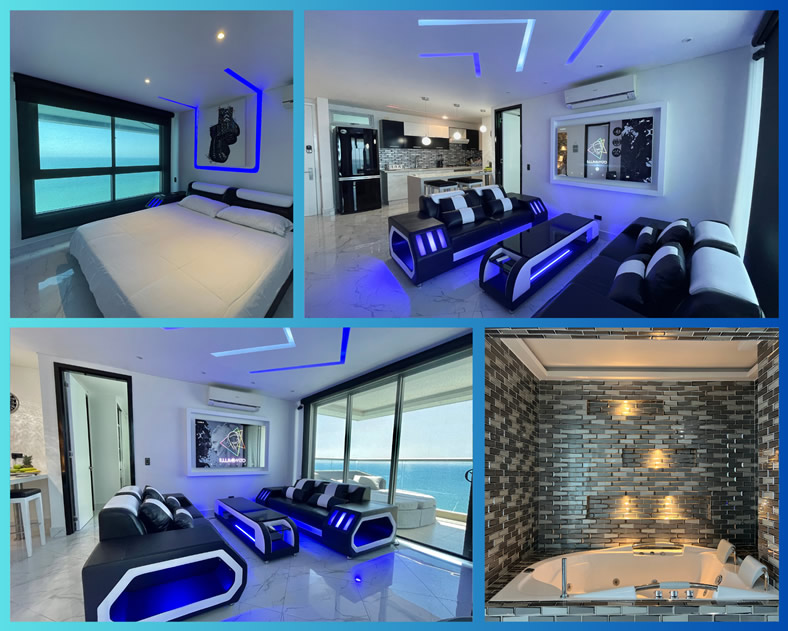 It was the first apartment in the premium line, created in 2019 and was recently remodeled to provide a better experience and be at the forefront of travelers.
It is a modern apartment with ocean view located on the 27th floor of the Palmetto Beach building.
The design features porcelain tile floors, LED ceiling lights in each of the rooms, balcony with outdoor furniture and beautiful ocean view with motorized curtains.
It has a modern kitchen equipped with stove and hood, digital oven and refrigerator, furniture and utensils of high quality. In addition, a bar made of sintered marble with seating for 4 people. In turn, work area with washer, dryer and water heater.
In the living room you can find custom leather furniture, a 43″ Tablet mirror with Android system and integrated stereo. In addition to a beautiful private jacuzzi decorated with veneer and LED lights design. At the same time, a modern and fabulous mural that accompanies the decoration.
Learn more about it here: Ballers Only palmetto Beach 2704. 
Apartment 2705 Palmetto Beach
In this apartment every detail was thought to provide the best experience with a design of LED lights in each of the rooms, accompanied by modern and attractive paintings.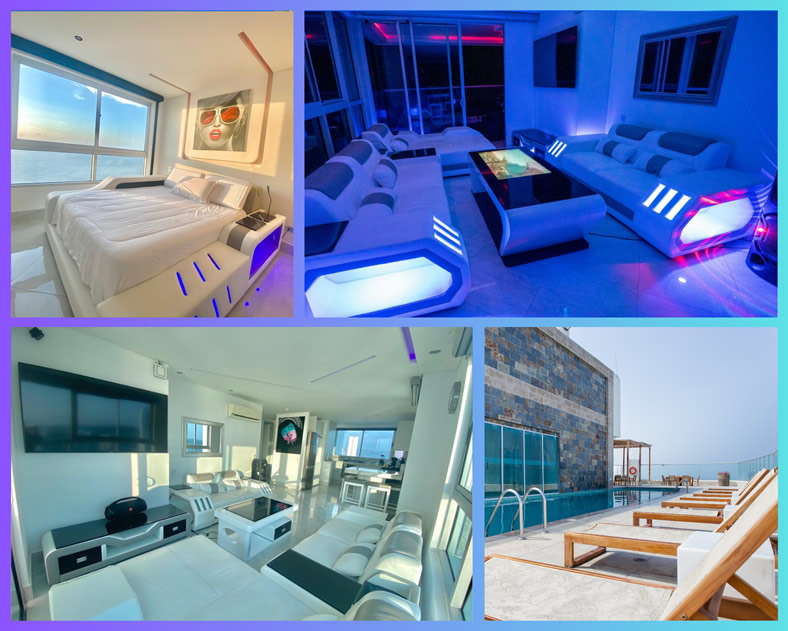 It has an open and modern kitchen with ocean view and electric shutter. Digital oven and refrigerator, high quality utensils, kitchen furniture. In turn, work area with washer, dryer and water heater.
It has a table with 6 movable seats. In the living room has imported leather furniture and made to measure, Smart TV 60 "with furniture. A Tablet table 43 inches with Android system and integrated stereo.
Learn more about it here: The Spaceship Palmetto Beach 2705
Apartment 1601 Murano Elite
It is a unique experience for those seeking sensuality and luxury in the same space. Its exquisite design, with an elegant and sophisticated decoration in an erotic and seductive atmosphere that captivates the senses.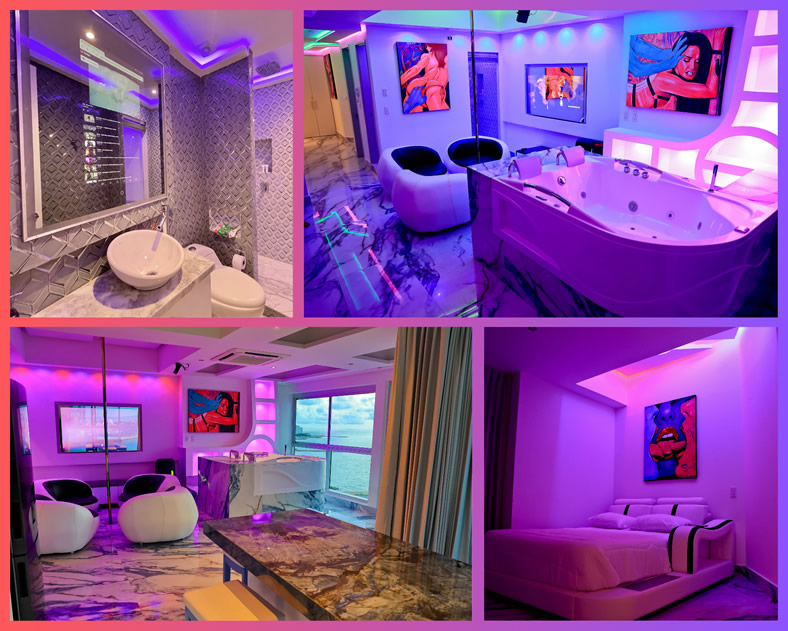 The entire property features LED lighting designs, erotic art paintings and modern finishes.
The living room and kitchen have beautiful design and motorized curtains. Its beautiful kitchen with veneer has digital oven, hood, refrigerator, high quality utensils along with beautiful and elegant dining room in sintered marble with 6 seats, which enjoys ocean view.
It has an incredible living area with pole dance tube, accompanied by 4 chairs with elegant leather design. It has a mirror with Android system and built-in stereo, plus a built-in TV table. Next to this is a built-in jacuzzi, with beautiful porcelain tile in white and blue, from which you can enjoy a great view of the sea.
Learn more about it here: The Erotic Murano Elite 1601 
Apartment 3101 Murano Elite
Modern and luxurious apartment in Cartagena with sea view inspired by the Fendi brand.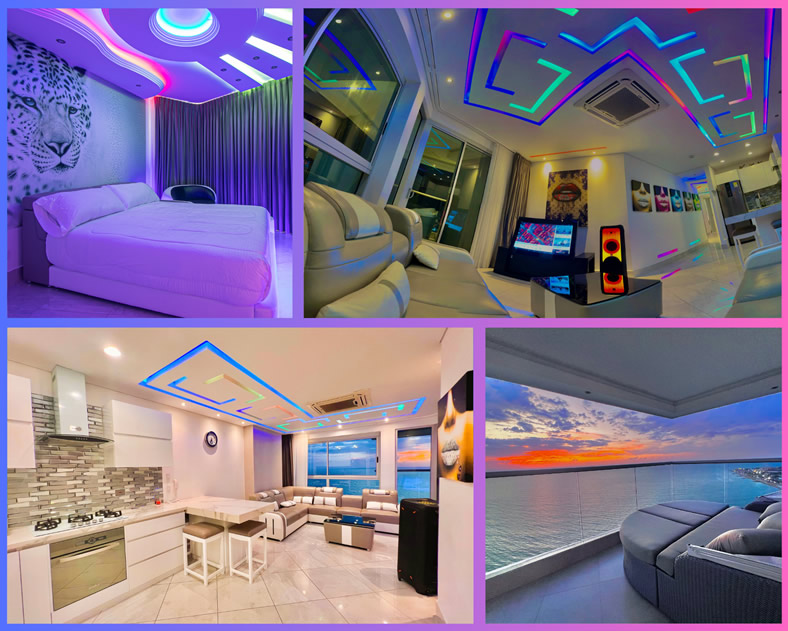 It has luxury decoration with beautiful paintings and modern style, in which you will enjoy a design of multicolor LED lights on the ceiling inspired by the Fendi brand. It has motorized curtains and a balcony with outdoor furniture overlooking downtown and Bocagrande beach.
It has a large living room with gray L-shaped furniture made in leather and custom-made with a coffee table. It also has a Tablet table with Android system reclining up to 90° and integrated stereo.
This property has an open kitchen in sintered marble and luxury veneer with cabinets, digital oven, high quality utensils, refrigerator and microwave oven, along with a 6-seater movable dining room.
Learn more about it here: Ballers Only 2 Murano Elite 3101
Apartment 1501 Murano Elite
This apartment is an icon of elegance and contemporary style. This apartment promises not only an accommodation, but also an unparalleled living experience.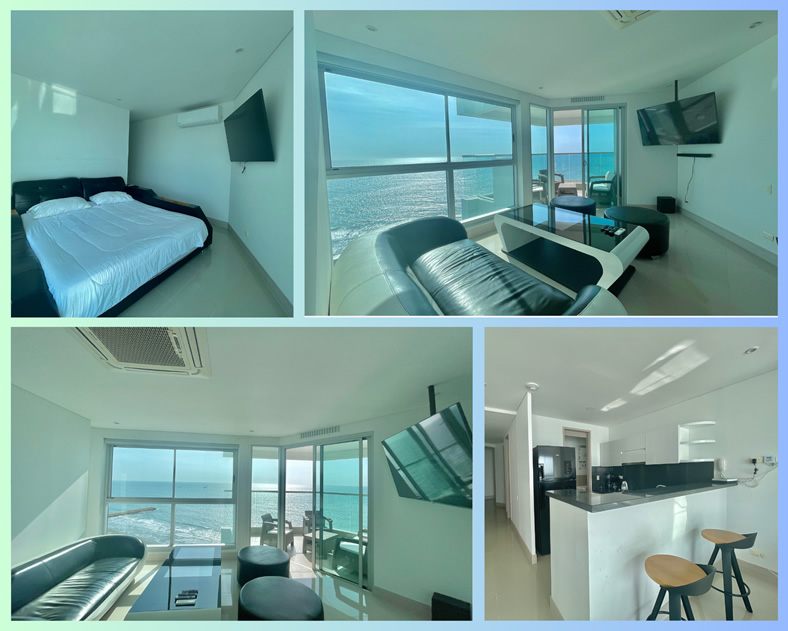 Beautiful three bedroom apartment offering a spectacular view of the ocean and the hustle and bustle of the city. Imagine waking up every morning with the serenity of the sea and the vibrant city life at your feet, in a space designed with the utmost comfort and luxury in mind. In addition, you can enjoy an exclusive rooftop pool, where panoramic views combine with unparalleled tranquility, providing you with a personal space for relaxation and recreation, this property has access to the building's jacuzzi.
The master bedroom of this amazing apartment is a king-size bed, while the other two bedrooms have queen-size beds. The kitchen is fully equipped with modern amenities. It has a spacious living room that is equipped with a 65-inch TV and an interactive sound system. Plush leather sofas and a smart Android tablet. In addition, the apartment has a balcony that offers stunning views of both the beach and the historic walled city.
Get to know him at here.
Undoubtedly, staying in one of these apartments for rent and enjoying all the benefits of the premium line will be an experience to another level and never to be forgotten. The amenities of each one will make your stay pleasant and worth the value of the reservation for the comfort they offer.
Would you like to stay in our apartments and live the premium experience?
Ask for them through our premium line section page or contact our advisors, they will be able to solve your doubts and give you personalized attention.
We assure you that you will find the ideal apartment that will fit your tastes and your attention.