Rental apartments for vacations in San Andrés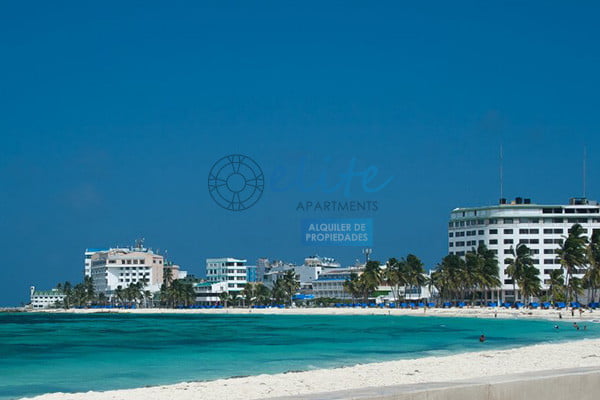 San Andres is a paradisiacal archipelago surrounded by beautiful waters and white sands that dazzle with their beauty, although it is a jewel of the Caribbean, it is not so well known.
But, where is San Andres Island located? The islands of San Andres, Providencia and Santa Catalina, are a group of islands belonging to Colombia, are located in the Caribbean Sea 190 kilometers east of Nicaragua, where you find the most amazing beaches, surrounded by lush vegetation, a varied and special flora, no doubt you will enjoy a dream trip!
Read on to learn more about ¿how to get to the islands of San Andres Colombia?
This beautiful archipelago is isolated from the mainland, the only way in and out is by air. San Andres has an airport just a ten minute walk from downtown. There are currently daily flights from Bogota, Cali, Cartagena and Medellin.
San Andres offers you besides a charming landscape, a trip full of fun, adventure and relaxation and enjoyment begins from the air, where you can see from the heights the reason why this beautiful place is known as the Sea of 7 Colors. Of course, San Andres Island is a destination that should be on your list of places to vacation.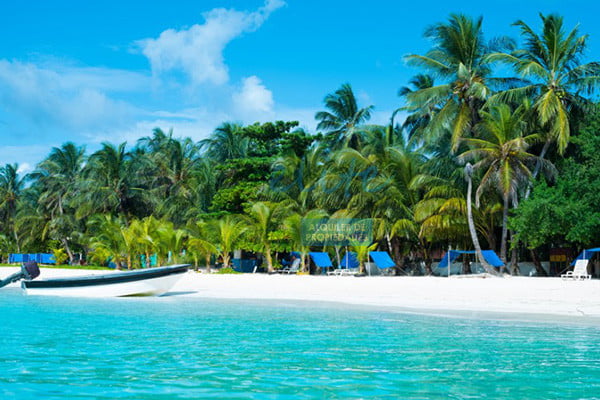 You can read. 
Vacaciones en Colombia: apartamentos para turistas en Cartagena
Now, once the decision to travel has been made, the following question arises: where to stay in San Andres?
Traveling is a great adventure, but there is no doubt that there are steps we can take to make it a truly special and unforgettable experience, and one of those steps is lodging.
In San Andres you can find many accommodations to stay, to learn more about apartment rentals in San Andres islands, keep reading!
More and more people and families are choosing to rent apartments in San Andres for vacations, it is a much more economical choice. Look at its advantages!
Advantages of Apartment Rentals in San Andres Islands
Comfort and privacy, you can take your things and organize yourself as you wish, plan your activities according to your schedule, without having to be subject to hotel conditions.
It is the most economical option, it can accommodate an entire family and can be paid for by several people, thus saving a little money.
Long live the kitchen! Although you can indulge yourself by eating out and enjoying the gastronomy that the island has to offer, these apartments have a fully equipped kitchen, which will allow you to save the money that would be spent on eating in restaurants during the whole vacation. It is perfect if you are traveling with children to take care of their food.
It has the advantage that you can invite friends or family to enjoy a meal, a few drinks or just enjoy good company.
More cozy and familiar environment.
You have an infinite number of options to choose from: with panoramic views, with swimming pool and barbecue, near the sea, pet-friendly, among others.
Recommended Article. 
Apartments for rent in Palmetto Building Cartagena
To make the most of everything this paradisiacal island has to offer, we propose you a stay in the best apartments for rent in San Andres for vacations.
Bahia Fragatta Building, Downtown. "Penthouse in San Andres"
A spectacular space where your stay will be comfortable, luxurious and unforgettable, this penthouse has everything you need to enjoy your vacation, located in the central area, a very touristic area, where you can find several stores, nightlife and close to beautiful beaches.
It has 8 bedrooms, 20 beds and 5 bathrooms to accommodate 27 guests. This is a 3-story apartment with a spacious living room and balcony.
Apartment Downtown, San Andres. Sea Bay Building, Downtown, San Andres
It is a nice space equipped with everything you need, has an excellent location in the center of the island, with maximum capacity for 9 people, is located near the beach in the center of the island, a tourist area, ideal for vacationing, a few steps from food and recreation area, this is the right place.
Spacious apartment, 3 bedrooms, 2 bathrooms is very comfortable and cozy. It has sofa and tv in the living room, air-conditioned rooms, full kitchen and dining room.
We recommend you to have your reservation and activities on the island well in advance, keep in mind that the island has a high flow of tourists and it is better to avoid uncomfortable situations or not being able to enjoy your vacation as you expected.
The months of December, January, February, July and August are high season, so it is always advisable to rent apartments in "San Andres Islas" well in advance. Also keep in mind that during these months accommodation prices are higher.
If you are interested in a "holiday apartment San Andres", please contact us, in Elite Apartments you find a portfolio of properties available for you to live an unforgettable vacation.
¡Contact us! and find the best lodging offers in San Andres – Cartagena – Bocagrande and other cities in Colombia. We have a comfortable line and a premium line, we have a perfect property for your vacation plans!