Guatapé Lodging: The best vacation rentals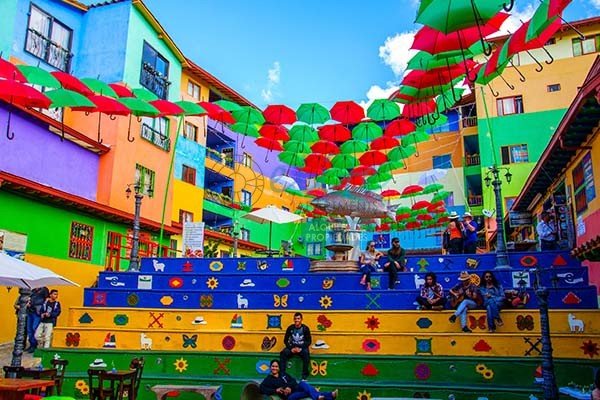 Looking for a place to enjoy your next vacation? If what you want is to travel to a place where you can discover different cultures and countless tourist attractions, Guatapé lodging is what you were looking for.
This small town is one of the most famous when it comes to Colombian tourism, being a center of attraction for national and international adventurers.
Therefore, you cannot miss the opportunity to get to know this beautiful town, learning from its people, but also, creating spectacular memories.
Where the rides are endless!
Belonging to the department of Antioquia, Guatapé is today one of the most attractive municipalities for tourists in the region. This is a town surrounded mostly by water, famous for its colorful streets and exotic architecture that tourists love to visit.
As if that were not enough, this destination has one of the most visited natural beauties in Colombia: a stone monolith called "El Peñol".
As is to be expected, this tourist paradise offers its visitors a variety of Guatapé lodging options, differing according to their area, budget and even architecture.
What is clear is that this small town captivates the hearts of all those who dare to visit it. So, pack your suitcase, book your accommodation and do not miss all its wonders.
Guatapé is recognized as one of the most colorful towns in Colombia where you will see the El Peñol Stone, the peasant culture that mixes Antioquian and indigenous history and the Paisa culture.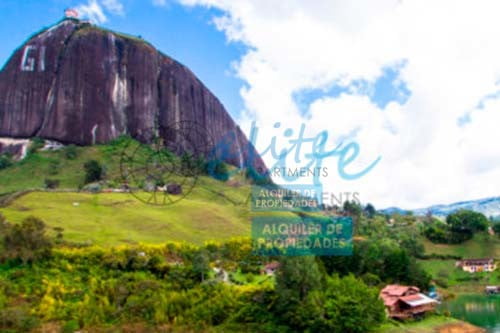 Also read: where to sleep in cartagena?
Best places to stay in Guatapé Antioquia
Guatapé is rich in attractive areas ideal for lodging, where some of them stand out thanks to their ease of transportation or proximity to tourist areas.
Even so, it is common that some are more suited to your travel plans or schedules than others, so here are the best areas where you can stay :
Around El Peñol
As a perfect destination for those who enjoy great views and rural spaces, the area near El Peñol is one of the busiest. It is openly known for having a good number of lodges, farms and even cabins for rent with space for up to 15 people
In addition, its location will allow you to reach ecological parks, monuments and well-known tourist attractions in just a few minutes.
Downtown Guatapé
When it comes to affordable lodging in Guatapé, the center of town is one of the most economical places for tourists.
This location is extensively populated with small squares, houses and small apartments for rent, just minutes away from all the fun.
In fact, by staying in them you will be able to fully experience the region's commercial commercial atmosphere of the region, enjoying colorful houses and alleys with floating umbrellas. If you love nightlife, water sports and delicious food, this is for you.
El Malecón
Looking for luxury accommodation? The malecon is the right choice for you. In it, you can find from a variety of luxury hotels to Guatapé lodging with swimming pool.
In addition, in this town you will enjoy a good number of restaurants specially created to attract tourists. Enjoying a cool and tropical and tropical climate in the company of the best drinks of the city.
Lodging in Guatapé Antioquia that you can reserve 
Have we convinced you to visit this excellent city? Then, your priority right now should be to find your ideal accommodation.
Remember that this region is highly touristic, so booking in advance will help you get the best places at an excellent price. So, take a look at some options and take advantage of this opportunity before the season starts:
Glamping in El Peñol near Guatapé
Designed especially for couples, this charming place has mesh, catamaran, terrace, heated Japanese ofuro jacuzzi, queen size canopy bed, en-suite bathroom with hot shower, minibar, decorative lights and the best scenery El Peñol and the reservoir have to offer. queen size bed with canopy, en-suite bathroom with hot shower, minibar, decorative lights and the best scenery that El Peñol and the reservoir have to offer.
You can book it from $535.000 CO in low season. This Glamping becomes the perfect place for tourists who love contact with nature.. Learn more here.
Charming Suite near El Peñol
Ideal for couple's nights, it includes a double bed, private bathroom, ample green areas and a temperate climate. Its price ranges from $190,000 COPs in low seasons.
This residence is perfect to get to know the whole city, as it offers excellent prices. In addition, if you have been moved by the colorful architecture of the streets in Guatapé, this aparthotel is undoubtedly your best option. Learn more here.
Farm with spectacular view of the Peñol in Guatapé
Without a doubt, this will be the best place to travel with your family or a group of friends. With space for up to 15 people, this farm has prices starting at $1,235,000 COPs in low season and includes a swimming pool, spacious rooms, BBQ area, jacuzzi, board games, and an incredible view of the Peñol dam. Why settle for conventional residences? This farm will allow you to enjoy the experience to the fullest with a mountain view. Learn more here.
Don't think about it anymore!
schedule
Book your accommodation in Guatapé now and enjoy Colombia's most colorful landscape, in
Elite Apartments
we count on
properties
exclusives that will adapt to your travel needs and expectations